Journal Entry:
Fri Mar 6, 2009, 1:20 PM
Mood: Daily Needs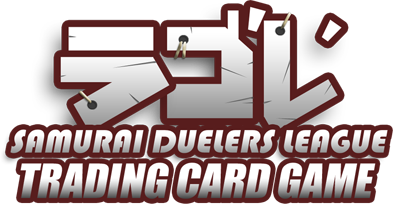 About
Officially first unofficial Trading Card Game for the Samurai Duelers League where SDL members can create their own cards and decks that can actually be played in the real world (after general tweaking and play testing)
Of those of you who are familiar with
K-Lynnette
's Infractus Fatality, and how a crazy TCG was created by
Napalm-Otaku
&
conmandamned
for the fun of it. Well that was where i got my current concept for a SDL version of it but i would even happier if the members of SDL could make cohesive Trade Card Game with actual decks that if in the real world would theoretically be played like a real trading card game!
Updates and News
Greeting Contributors, Watchers, and those of you who are just stopping by,
if you look back in time i was going to start a contest for new set of cards, but knowing that i lack the funds to provide any real prizes so i am going to make this one a special open season that will last for until the end of April. so without further delay
WAKE UP YOU FOOLS it the time start working on another set! this one is called the
Legend of the Bakatana
. What is the Bakatana? it is a mystical katana that is rumored to be only able to hurt idiots and stupids. too stupid to be true you say? BAKA! *smack you upside the head* don't disrespect your sensei! now where was i? oh yes! This set is a joke set, meant to used to humiliate the players in front of their peers, have a laugh or two, and just break the game mechanics over the knee with a sicking crack. for this the F*ck sky is the limit, make jokes about game, SDL, OCT, the internet and whatever comes to mind! Need references about how to write a card's text? one of the best sources is to look at a Magic card; don't have one google it out and look. and to set the bar i thought this would be a perfect card

yes the image belongs to
CubeWatermelon
, yes i moving to over as we speak, but i edit that later, and it was too tempting not to use. So in the mean time let us make some cards!
EDIT PS! you're still welcome to submit any winter themed cards for Winter Brawl, which i leaving open til next winter!
Table of Content
SDL Members who have contributed to the project
Artist Roster
sign up today plz!
- artistic volunteers -






art done for
Madoka Ito by
Dragon-Knight333
Nuwan Clearmorning by
tsukikage-ryu
Kersa Sakuya by
TheSixofHearts
Aurelio D'Seles by
Alamus
Kaito Kichirou by <open>
Laine by
wansworld
Sakana by <open>
more to come hopefully
Based off of popular OC tournament
Links

Watch